Apps
Whether you're out and about or just curled up on the sofa, thanks to UKTV Play you can watch loads of your favourite shows on your smartphone, tablet or TV.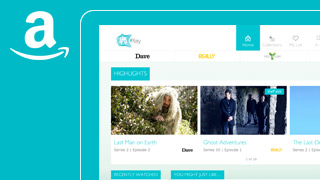 You can also watch UKTV Play on your TV using the Amazon Fire TV or Fire TV Stick.
Simply use the Amazon Fire TV remote to select Search from the Home screen, then use the on-screen keyboard to find and download the UKTV Play app. Or you can press the Voice button on the remote and search that way instead.
The UKTV Play app is available for Android mobiles and tablets running Android 4.3 and above. As much as we'd love to be on all Android devices, there's some that just won't play nice. So unfortunately the app's unavailable on the following:
Tesco Hudl (1 & 2)
Sony Ericsson phones & tablets
Alcatel One Touch phones
Pre-2015 Kindle devices
The UKTV Play app works like a charm on the iPod touch, iPhone and iPads that run iOS 7 and above.